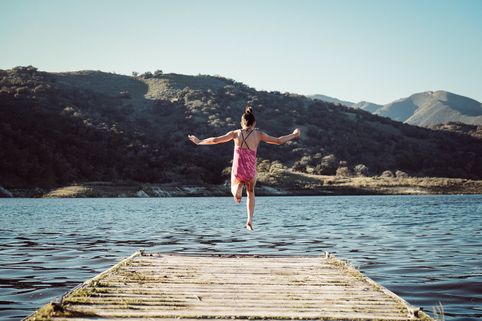 Ik moet je iets bekennen. Vorige zomer heb ik geschreeuwd in een park. Het was ongemakkelijk en vreemd, maar ook bevrijdend. Ik deed iets dat me onmogelijk leek en dit zorgde voor een doorbraak. Een doorbraak die uiteindelijk leidde tot het oprichten van mijn eigen bedrijf.
Ken je dat gevoel dat er meer in zit, dan er uit komt? Vorig jaar werd dit gevoel bij mij steeds sterker. Ik deed steeds meer op de automatische piloot. Mijn werk was nog steeds interessant, maar het gaf me niet meer de voldoening die ik zocht.  Ik ging op zoek hoe ik dit kon doorbreken. 
In eerste instantie focuste ik vooral op het verbeteren en optimaliseren van mijn werk. Dit hielp steeds even, maar daarna kwam ik weer terug op hetzelfde punt. Ik zat vast in een patroon. Om het beste uit mezelf te halen moest ik vooral mezelf vernieuwen. Maar hoe doe je dat?  
Als zorgvernieuwer begeleid ik organisaties bij innovatieprojecten. Innoveren is in principe nieuwe dingen doen. Dus besloot ik daarmee te starten. Een week lang deed ik elke dag iets nieuws. Het waren simpele dingen, zoals een andere route nemen, een andere krant lezen en een nieuw recept proberen. Het zorgde ervoor dat ik mijn vaste patronen doorbrak. 
Na een week wilde ik het wat spannender maken. Ik voegde dingen toe die buiten mijn comfort zone lagen. Dit gaf meer spanning, maar ook een grotere kick. Ik begon er steeds meer plezier in te krijgen. De succeservaringen zorgden bovendien voor meer energie, zelfvertrouwen en nieuwe inspiratie. 
Uit nieuwsgierigheid vroeg ik me af wat mijn ultieme uitdaging zou zijn. Vrijwel meteen had ik een idee: schreeuwen in het openbaar. Dat was ongeveer het ergste wat ik kon bedenken om te doen. Alleen de gedachte bezorgde me al buikpijn. Vooral het idee dat iemand anders me zou zien of horen leek me verschrikkelijk. Het leek me een mission impossible. 
Toch achtervolgde dit idee me in de week erna. Ik oefende zelfs een keer in de auto. Op een regenachtige dag besloot ik daarom dat het nu of nooit was. Ik ging het gewoon proberen. Ik ging naar het park en zocht een rustige afgelegen plek. Daar stond ik dan: in de motregen, tussen de bomen, in een bijna verlaten park. Ging ik dit echt doen?
Ik slaak eerst een voorzichtig gilletje. Dit is ongemakkelijk. Nog even kijk ik of er niemand in de buurt is. En daar ga ik. Een harde schreeuw vanuit mijn onderbuik. Ik voel de adrenaline in mijn lijf en ben licht euforisch. Meteen daarop gaat mijn telefoon. Het is mijn man. Hij vraagt me waar ik ben en wat ik aan het doen ben. Ik voel me alsnog betrapt.
Nu koester ik de herinnering aan die dag in het park. Het heeft me bevrijd om altijd rekening te houden met anderen en  heeft me meer vertrouwen gegeven om mijn eigen stem te laten horen. Ik startte met mijn blog, liet meer van mezelf zien in mijn werk en startte uiteindelijk mijn eigen bedrijf. Het bleek achteraf precies de sprong te zijn die ik nodig had om de volgende stap te kunnen zetten.
Het is vooraf niet altijd helder wat er nodig is om een doorbraak te realiseren. Het is vooral belangrijk om je bewust te worden van de huidige patronen en de beperkingen die hieruit voortkomen. Dan pas kun je starten met het doorbreken ervan. Het doen van nieuwe dingen is een eenvoudig en effectieve manier om hiermee aan de slag te gaan. Het zorgt ervoor dat er ruimte ontstaat om nieuwe mogelijkheden te ontdekken. Bovendien kan iedereen het. 
Wanneer deed jij voor het laatst iets nieuws? Ik daag je uit om deze week elke dag iets nieuws te doen. Begin klein en volg je nieuwsgierigheid. Het is daarbij niet erg om je ongemakkelijk te voelen. Vaak is dit een teken dat je hier iets belangrijks kunt leren.
Vind je het lastig om te beginnen? Hier zijn een paar suggesties om mee te starten:
neem een andere route naar je werk

kies of maak eens een andere lunch

lees een (online) magazine dat je normaal niet kiest

gebruik een dag geen telefoon 

doe een dansje in de supermarkt   

 
Ik ben benieuwd of je de uitdaging aangaat! Ik zou het leuk vinden als je je ervaringen met me wilt delen. Je kunt dit via de comments doen of me een berichtje sturen.