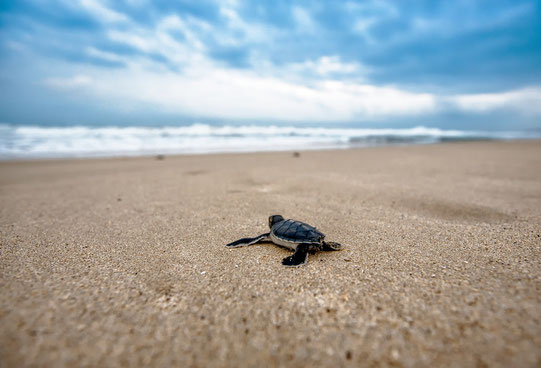 Wat moet je leren om zorginnovaties te kunnen implementeren? Dit was de vraag die centraal stond tijdens het recente innovatiecafé van Zorg voor Innoveren. Ik deelde hier een persoonlijke les. Een les die ik al doende heb geleerd. En waardoor ik nu anders aankijk tegen de uitdagingen die horen bij het implementeren. Ik neem je graag mee op een korte reis om mijn inzichten met je te delen. 
Als zorgvernieuwer ben ik regelmatig betrokken bij implementatietrajecten. En ondanks mijn kennis en ervaring, blijven dit vaak lastige trajecten. In het begin is het altijd leuk. Er is sprake van enthousiasme en de betrokkenen zien vooral kansen. Maar ik weet inmiddels dat er ook altijd een punt komt dat het enthousiasme omslaat in twijfel. Of dat je even niet meer weet hoe je verder moet.  
En ik kan je vertellen dat voelt niet prettig. Wat ik vaak bij mezelf merk, maar ook bij anderen zie, is dat we op dit soort momenten in een soort volhardingsmodus schieten. We willen het project laten slagen en gaan harder werken. We doen nog beter ons best om anderen te overtuigen of belemmeringen op te lossen. Maar dit kost ook een hoop energie. En belangrijker nog, dit blijkt vaak helemaal niet effectief! 
De reis van de held
Vorig jaar las ik het boek 'De held met de duizend gezichten' van Joseph Cambell. Hierin analyseert Joseph Cambell allerlei verschillende klassieke verhalen, mythen en sagen. En hij ontdekte dat er ondanks het verschil in inhoud, steeds een zelfde soort structuur wordt gebruikt om het verhaal te vertellen. Deze structuur of de stappen die de held steeds doorloopt, noemt hij 'de reis van de held'. En deze reis van de held blijkt best veel overeenkomsten te hebben met het implementeren van een innovatie.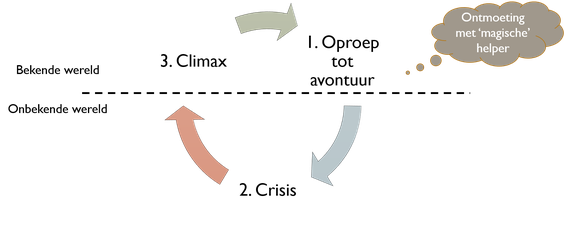 De reis van de held bestaat officieel uit 12 stappen. Maar hier beperk ik me nu tot de 3 hoofdfasen, namelijk 1. de oproep tot avontuur, 2. de crisis en 3. de climax. 
In de oproep tot avontuur wordt de held opgeroepen om de bekende wereld te verlaten. Er is sprake van een verlangen of er doet zich een probleem voor. Maar de held twijfelt om het avontuur aan te gaan of krijgt te maken met weerstand vanuit zijn omgeving.In deze fase verschijnt er vaak een mentor of magische helper die de held bijstaat met wijze raad en hem aanmoedigt. Als de held besluit om de oproep tot avontuur te beantwoorden gaat hij de drempel over naar de onbekende wereld.
In de onbekende wereld doen zich allerlei uitdagingen voor. Het overwinnen van de uitdagingen zorgt voor nieuwe inzichten en de held leert nieuwe vaardigheden. Maar naarmate de uitdagingen groter worden, bereikt de held een dieptepunt. De held verliest definitief de controle en wordt geconfronteerd met zijn angsten. Hij ziet het eigenlijk niet meer zitten. Om deze crisis

te overwinnen wordt de held uitgedaagd zichzelf opnieuw uit te vinden  om de reis weer te kunnen vervolgen.  

De climax van het verhaal betreft een laatste grote test. De held moet bewijzen dat hij zijn les geleerd heeft en in staat is de nieuw verworven kennis en vaardigheden in te zetten in de bekende wereld. Als de held overwint keert hij terug en deelt hij zijn nieuwe inzichten. Hij is nu in staat zijn nieuwe inzichten en vaardigheden toe te passen en in te zetten voor het verbeteren van de bekende wereld. 
Mijn inzichten
De reis van de held is in mijn ogen een mooie metafoor voor het doorlopen van het implementatieproces. Het heeft mij nog bewuster gemaakt dat het niet alleen gaat om de juiste kennis, ervaring of een goed stappenplan. Maar dat er meer nodig is om een implementatieproces te laten slagen. 
De lessen uit de reis van de held helpen mij door de moeilijke punten heen tijdens een implementatieproces. De 4 inzichten die ik meeneem op mijn reis zijn: 
Als je wilt innoveren,beantwoord je de oproep tot avontuur. Dit betekent dat je te maken gaat krijgen met uitdagingen. Dit hoort er nu eenmaal bij.  
Besef dat je kennis en ervaring niet altijd toereikend zal zijn en wees bereid om onderweg te leren wat nodig is. De uitdagingen die we onderweg tegenkomen zijn aanwijzingen wat we nog moeten leren om het uiteindelijke doel te kunnen bereiken.
Je moet soms handelen voordat je er klaar voor bent. Het vraagt lef om iets nieuws te proberen en je comfortzone te verlaten. Het is belangrijk om vertrouwen te hebben in dat dit onderdeel is van jouw reis. 
Er zijn altijd mensen die je kunnen helpen om uitdagingen te overwinnen. Dit kunnen mensen zijn die meer ervaring hebben dan jij, andere vaardigheden bezitten of juist vanuit een ander perspectief naar de uitdaging kijken. Dit zijn onze magische helpers. 
Laat het perfecte plaatje los
Wat ik dus echt heb moeten leren is om meer los te laten en vertrouwen te hebben in de 'implementatiereis'. De perfecte aanpak bestaat niet. Je komt altijd nieuwe uitdagingen tegen onderweg. Als het lukt om dit te accepteren, kun je je energie nog veel meer richten op doen wat nodig is. En is de kans groter dat je het avontuur tot een goed einde brengt. 
Als jij, net als ik, soms worstelt met de uitdagingen van het innoveren of implementeren. Dan is mijn boodschap aan jou: dit is heel normaal! Je bent in mijn ogen een held dat je het avontuur aangaat. Maar zorg wel dat je ook mensen uitnodigt die je verder kunnen helpen. Het is vooral belangrijk om ook de uitdagingen die je tegenkomt te delen. Want alleen dan kunnen magische helpers op jouw reis verschijnen.