Hoe vergroot ik mijn impact? Met deze vraag startte ik begin 2017 een eigen bedrijf. Ik zocht meer voldoening en plezier in mijn werk. Maar ik wilde ook meer resultaat ervaren. Ik had behoefte om het verschil te kunnen maken. Vol goede moed begon ik aan deze zoektocht. Alleen ging dit niet vanzelf. Want een paar maanden geleden had ik het gevoel dat ik weer terug bij af was. 
Mijn bedrijf liep goed. Dat was het niet. Ik had leuke opdrachten en ik leerde veel van het ondernemerschap. Daarnaast volgde ik trainingen op het gebied van innovatie en persoonlijke ontwikkeling. Ik werkte hard en ik had in eerste instantie het gevoel dat ik lekker bezig was. Maar op een gegeven moment besefte ik dat het in de praktijk nog steeds veel op mijn oude baan leek. 
Het frustreerde me dat ik zo druk bezig was om mezelf en mijn werk te veranderen, maar dat dit nauwelijks zichtbaar werd. Ik had nieuwe dingen geleerd en ook nieuwe ideeën, maar het lukte me niet om er echt mee aan de slag te gaan. Ik had te weinig tijd. Of ik liet me meevoeren door de waan van de dag. En zo bleef mijn impact hetzelfde.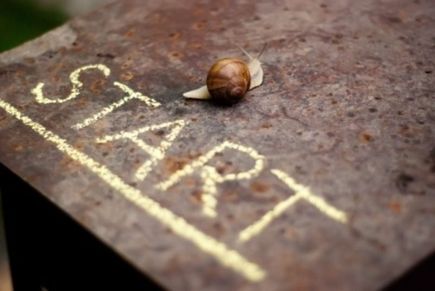 Ik bedacht dat ik meer moest focussen. Concrete doelen en meer tijd had ik nodig. Dus stelde ik tijdens mijn vakantie nieuwe doelen op en reserveerde ik tijd in mijn agenda om hieraan te werken. Dit voelde goed. Het was opeens heel helder wat ik wilde. Hier kon ik mee aan de slag. 
Toch bleek dit slechts een deel van de oplossing te zijn. De doelen werkten om meer focus aan te brengen in wat ik al deed. In mijn huidige opdracht was meer ruimte om zaken op te pakken die ik graag wilde leren of die ook bijdroegen aan mijn doel. Daarnaast werd het ook makkelijker om zelf te sturen op de invulling van nieuwe opdrachten. 
Het werkte alleen niet bij het opstarten van nieuwe activiteiten. Ik wilde starten met het aanbieden van projectcoaching voor zorgvernieuwers. Ik had tijd vrij had gemaakt om dit voor te bereiden en was voor mijn gevoel ook hier mee bezig. Maar in de praktijk besteedde ik deze tijd vooral aan het opdoen van nog meer inspiratie en het doen van research op internet. Ik bleef hangen in het nadenken over hoe ik het zou gaan doen.
Ik bleef er omheen draaien. Op deze manier was ik onbewust aan het uitstellen. 
Ik hield mezelf voor dat ik er nog niet klaar voor was. Misschien moest ik het idee toch eerst verder uitwerken. Zou ik niet nog een training moeten volgen? En hoe deden anderen het eigenlijk? En zo kon ik toch veilig in mijn comfortzone blijven. Terwijl het enige dat mijn doel dichterbij kon brengen, was door het gewoon te gaan DOEN. Dat was wat er echt nodig was: Durven, Ontdekken, Experimenteren en me Niet laten afleiden.
Nu ben ik er echt klaar voor. En zodra ik dit besef, komt er een mooie opdracht op mijn pad als projectcoach. Vanuit een sociaal investeringsfonds mag ik een aantal projecten ondersteunen. Hier help ik zorgvernieuwers om hun plan verder uit te werken en hun doelen te realiseren. Maar ik ondersteun hen ook bij het zetten van de stappen die zij onbewust blijven uitstellen. Want juist dit zijn vaak de stappen die helpen om echt de impact te vergroten. 
Als jij ook verlangt naar een volgende stap om meer impact te maken, dan wordt het tijd om echt te gaan DOEN! En niet langer (on)bewust te blijven uitstellen. Dit is zonde van jouw tijd, maar ook voor de mensen die je met jouw zorgvernieuwing kunt helpen. Ervaar je dat je te weinig kennis, tijd of support hebt om hier echt mee aan de slag te gaan, dan ga ik graag samen met jou aan de slag. Wil je weten wat ik voor je kan betekenen, neem dan contact met mij op.