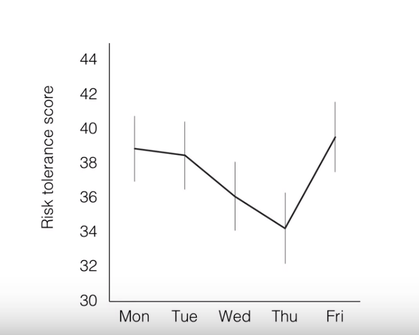 Ik kwam deze week een interessante TED talk tegen. 'How the day of the week affects your decisions' van gedragswetenschapper Jet Sanders. 

Een paar maanden geleden schreef ik een blog over het geheim van perfecte timing. Dit ging over hoe onze stemming zich gedurende de dag ontwikkeld. En hoe dit onze keuzes onbewust beïnvloed.  

Wat interessant is dat het Sanders een vrijwel identiek patroon heeft ontdekt (zie afbeelding). Maar dan voor de dagen van de week i.p.v. het tijdstip van de dag.  

Op maandag zijn we optimistisch. Er is een piek in onze bereidheid om risico's te accepteren. De dagen daarna is een dip zichtbaar, die zich op vrijdag weer volledig hersteld. 

Op donderdag is onze bereidheid om risico's te accepteren het laagst. En dit blijkt invloed te hebben op belangrijke beslissingen die we nemen. Ook op bewust gedrag zoals stemmen.

Op donderdag zijn we geneigd conservatiever te stemmen. Uit de peilingen rondom het referendum voor Schotse onafhankelijkheid, bleken meer mensen geneigd om tegen te stemmen op donderdag. Het verschil met vrijdag was 4%. 

Het referendum werd op donderdag gehouden. Een nipte meerderheid stemde tegen onafhankelijkheid. 

Maar ook op andere terreinen laat Sanders dit patroon zien. Uit data van de FBI blijkt dat er op donderdag 30% minder bankovervallen en schietincidenten zijn ten opzichte van vrijdag. Bizar toch. 

Bij innoveren is de bereidheid om risico's te accepteren noodzakelijk. Beslissingen over innovatie kun je beter niet op donderdag plannen. Kies liever voor maandag of vrijdag. Dit kan in sommige gevallen net het verschil maken.